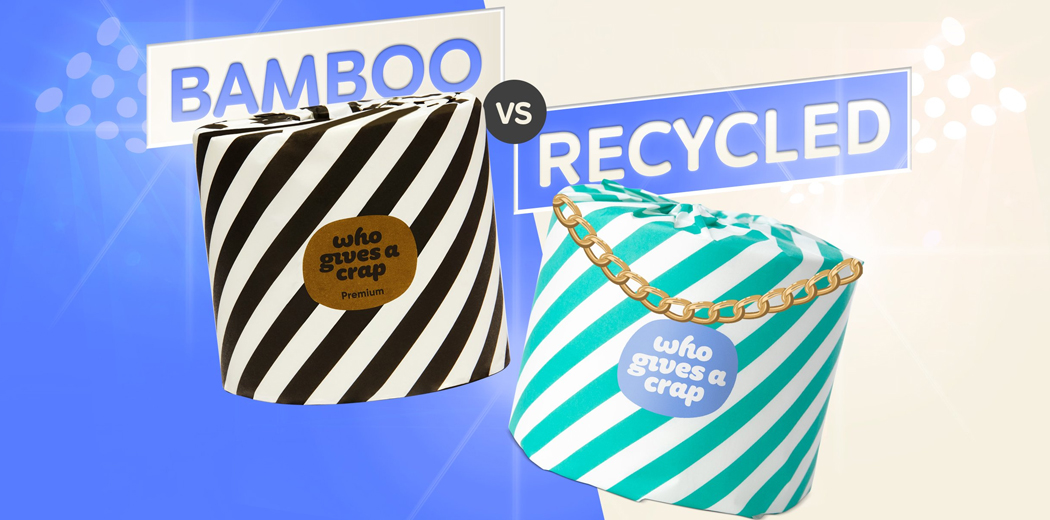 This article was originally published on Who Gives A Crap
Shop with Who Gives A Crap through Raiz Rewards in the Raiz app and to earn 8.4% (was 3.5%) of your purchase invested back into your Raiz account. Boosted reward amount valid 7/7/22 – 11/7/22.
DING DING DING. Do you hear that? It's the sound of two toilet paper rolls ready to rumble. We often get asked whether bamboo or recycled is the better option to wipe your bum, so we've pitted them against each other in the ring. (And it's basically like asking us to choose between our children, so we really hope you appreciate it.)
Ok, ref – let's do this!
Round 1: Which is more eco-friendly?
Recycled toilet paper comes out swinging – it's made from 100% recycled post consumer paper, aka recycled school and office paper that's already in circulation. Take that, deforestation! Plus, since it's already paper, there's less energy needed to transform the fibres into TP than with traditional wood. A strong start, but oh wait-
Here comes bamboo toilet paper, another eco heavyweight. Bamboo is the world's fastest growing plant (it can grow up to a metre in just one day), so it can be harvested way more frequently than trees. In fact, bamboo toilet paper needs almost 90% less land per sheet to produce than traditional TP. Woah! So it helps save forests and is totally biodegradable, too – how's that for a one-two punch?
Winner: Recycled by a whisker – bamboo fights a good fight, but it takes a bit more energy to process and costs a little more to make.
Round 2: Which feels better on your bum?
Let us beat you to the punch: recycled loo roll isn't the softest thing going round. The paper we use has been recycled multiple times before it reaches its final TP form, so the fibres are a bit more worn than what you'd find in a roll made from virgin trees. But don't worry, we do our best to make sure it's still comfy and strong for your planet-loving tushy.
Bamboo, on the other hand, has softness in its corner. It's the strongest toilet paper we make, and actually feels pretty similar to traditional supermarket rolls – but with the added benefit of feeling great on your conscience, as well.
Winner: Bamboo lands a heavy blow to take out the softness round.
Round 3: Which is more convenient?
Aaaand we're back after a quick break to mop our fighters' brows. (Actually, they're both really absorbent, so they took care of that themselves.)
It's even-stevens this round, with both bamboo and recycled coming in strong. They can both be ordered online and delivered straight to your door. Smack! They both come in bulk boxes of 24 or 48 rolls so you never get caught TP-free with your pants down. Bam! With a subscription, you can tell us the number of people in your house and we'll recommend how often your loo roll should be delivered. Pow! Oh, and you'll never have to go to a supermarket for toilet paper ever again. Kablooey!
Winner: From our ringside seat (the toilet), we're calling a tie.
Round 4: Which is better looking?
Hasn't anyone ever told you that beauty is subjective? Even so, the gloves are off with our recycled rolls, which come wrapped in a bunch of bright and friendly patterns. (We know individual wrappers might seem counterintuitive for an eco-friendly toilet paper, but we've done a lot of research to make sure it was the best thing for us, our impact and the planet – you can read more about it here.)
Oof, but bamboo really is the most elegant toilet paper ever. It's all suited up in black and white wrapping and looks majestic next to your loo. Plus, it gets a new look with each one of our limited editions. Swoon.
Winner: After a full-blown slugfest, recycled takes one right in the kisser. We just can't go past our bamboo toilet paper and all its fancy outfit changes.
Round 5: The Wild Card round
It's the final square off! Old faithful recycled toilet paper vs. hotshot bamboo. We're not quite sure what title they're fighting for here, to be honest, so we thought we'd take this opportunity to fill you in on some of their other heavy-hitter qualities:
Both rolls are competitively priced with supermarket TP, so they feel good on your bum and your budget, too

Both are suuuuuper long so won't run out in a hurry

50% of profits are donated to organisations that provide toilets and clean water to people who need them

They both play well with most septic tanks
And the title goes to…
You didn't think you could force us to choose, did you? After a bare-knuckled bout like that, we think both recycled and bamboo toilet rolls are pretty great options. The main thing is that they're both good for the world, good for people and good for your bum.
Shop for toilet paper online here!
Important Information
If you have read all or any part of our email, website, or communication then you need to know that this is factual information and general advice only. This means it does not consider any person's particular financial objectives, financial situation, or financial needs. If you are an investor, you should consult a licensed adviser before acting on any information to fully understand the benefits and risk associated with the product. This is your call but that is what you should do.
You may be surprised to learn that RAIZ Invest Australia Limited (ABN 26 604 402 815) (Raiz), an authorised representative AFSL 434776 prepared this information.
We are not allowed, and have not prepared this information to offer financial product advice or a recommendation in relation to any investments or securities. If we did give you personal advice, which we did not, then the use of the Raiz App would be a lot more expensive than the current pricing – sorry but true. You therefore should not rely on this information to make investment decisions, because it was not about you for once, and unfortunately, we cannot advise you on who or what you can rely on – again sorry.
A Product Disclosure Statement (PDS) for Raiz Invest and/or Raiz Invest Super is available on the Raiz Invest website and App. A person must read and consider the PDS before deciding whether, or not, to acquire and/or continue to hold interests in the financial product. We know and ASIC research shows that you probably won't, but we want you to, and we encourage you to read the PDS so you know exactly what the product does, its risks and costs. If you don't read the PDS, it's a bit like flying blind. Probably not a good idea.
The risks and fees for investing are fully set out in the PDS and include the risks that would ordinarily apply to investing. You should note, as illustrated by the global financial crisis of 2008, that sometimes  not even professionals in the financial services sector understand the ordinary risks of investing – because by their nature many risks are unknown – but you still need to give it a go and try to understand the risks set out in the PDS.
Any returns shown or implied are not forecasts and are not reliable guides or predictors of future performance. Those of you who cannot afford financial advice may be considering ignoring this statement, but please don't, it is so true.
Under no circumstance is the information to be used by, or presented to, a person for the purposes of deciding about investing in Raiz Invest or Raiz Invest Super.
This information may be based on assumptions or market conditions which change without notice and have not been independently verified. Basically, this says nothing stays the same for long in financial markets (or even in life for that matter) and we are sorry. We try, but we can't promise that the information is accurate, or stays accurate.
Any opinions or information expressed are subject to change without notice; that's just the way we roll.
Mastercard is a registered trademark and the circles design is a trademark of Mastercard International Incorporated.
Home loans are subject to approval from the lending institution and Raiz Home Ownership makes no warranties as to the success of an application until all relevant information has been provided.
Raiz Home Ownership Pty Ltd (ABN 14 645 876 937), an Australian Credit Representative number 528594 under Australian Credit Licence number 387025. Raiz Home Ownership Pty Ltd is 100% owned by Raiz Invest Australia Limited (ABN 26 604 402 815).