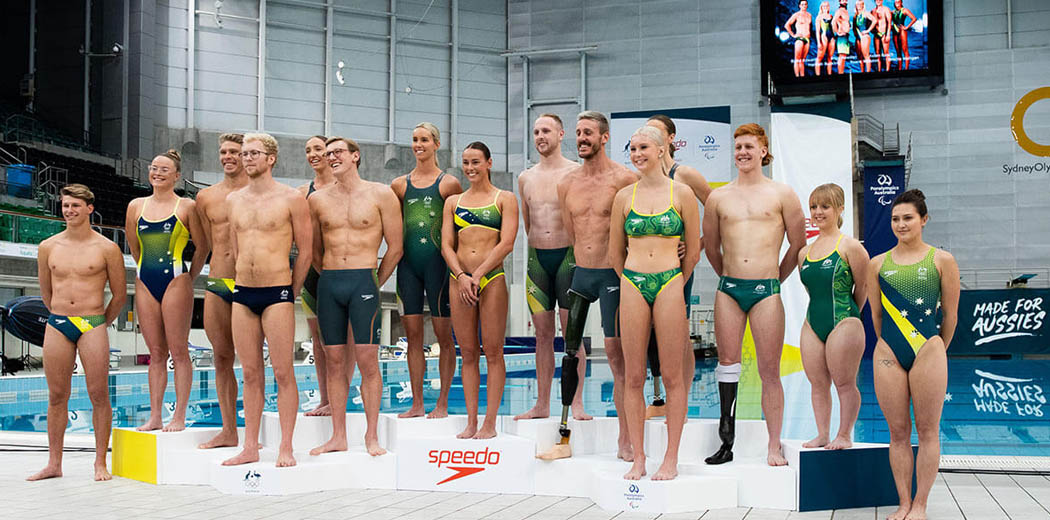 Speedo has unveiled its exclusive aquatic sports uniform range for the Tokyo 2020 Olympic and Paralympic Games – with a parade of champions headlining the launch at the Sydney Olympic Park Aquatic Centre.
Speedo's superstar swimmers Mack Horton and Emma McKeon led a host of fellow athletes from across all aquatic sports disciplines who will line up in Tokyo in Speedo's innovative competition racing and training suits.
The pool competition wear features Speedo's latest tech race suits; Fastskin Pure Intent and Fastskin Pure Valor, both designed to combine 20 years of pioneering performance with innovative new technologies and new fabrics to make the perfect suit for every type of competitive aquatics athlete.
For the Tokyo Olympics, Speedo has returned to nature to look at how sharks and other fish reduce drag when they swim. Some of the world's leading research institutions have looked not only at the skin features of fish in existence now, but also at the ancestors of modern day sharks, that have long been extinct.
Speedo has also worked with the Natural History Museum in London as well as with partners in other industries, including Formula 1, with the latest Fastskin suits, the smartest to date.
The Fastskin Pure Intent is designed around a deeper understanding of hydrodynamics and the biomechanics of swimming, with its flexible zoned compression, giving the swimmer a wider range of motion in the legs and making it easier to put on and more comfortable to wear. There are three brand new fabrics which directly target flexibility, compression and drag reduction in the areas that need it.
The Fastskin Pure Valor is Speedo's most lightweight technical swimsuit and features moderate compression along with bonded seams for comfort and speed.
Talking about the suits Mack Horton said "I feel really flexible in the Speedo Fastskin Pure Intent and it's helping me power through the water. This is the best racing suit in the world and I'm really looking forward to wearing it this year."
And Australia's most decorated female swimmer, Emma McKeon added "The Speedo Fastskin Pure Intent is a lot easier to put on. The shoulders are much more comfortable and I feel fast wearing it! When I stand on the blocks, I'm feeling confident that the suit is going to help me."
Speedo Brand Manager, Graham Eyres, said Speedo was excited and proud to be revealing the Tokyo outfits.
"Speedo is part of the Aussie DNA and during the Olympic and Paralympic Games we will all be inspired by the stories, strength and determination of our nation's athletes, "Eyres said.
"With that inspiration we want to encourage all Aussies to make waves in their own way, by participating in an aquatic sport and do a really Aussie thing – just have a go in a Speedo."
Three-time Paralympic gold medallist Brenden Hall said: "Speedo has always been at the forefront of swimsuit technology and an important part of my medal winning performances at the Games. I know I can swim my best in Fastskin."
Australian Paralympic Team Chef de Mission Kate McLoughlin, said: "Our Paralympians know when they put on the green and gold Speedos they are ready to perform for Australia. The Paralympic swimwear also incorporates our unique indigenous design, The Journey, depicting the genesis of the Paralympic family and how far we've all come together. I know it will be worn with pride."
In addition to the pool racing swimwear Speedo will provide the competition swimwear for water polo players, divers and surfers.
Junior athletes Indigo Chong and Bada Kang from the SOPAC Swim Team were also in attendance, sporting the Speedo limited edition replica collection. This range is a reproduction of the training swimwear for the Olympic Games and made for Aussies to be able to get into the Green and Gold spirit over the games. It can be purchased in selected aquatic centres, rebels, online and at Speedo stores.
Indego Chong said "It was great to wear the same swimwear as these amazing swimmers. I got to meet Mack Horton and ask him what it's like to swim in the Olympics and win a gold medal."
Ian Chesterman, Australian Olympic Team Chef de Mission said "Speedo has a rich Olympic history, providing Australian Olympians with the best competition and training wear since the 1956 Melbourne Games. They have developed a cutting edge uniform for Tokyo 2020 to help our athletes in aquatic sports achieve world class performances, and I'm sure our swimmers, divers, water polo players and surfers will wear their Speedo Australian Olympic Team gear with pride."
Shop with Speedo through Raiz Rewards in the Raiz app and they will invest 4.2% of your purchase back into your Raiz account. Reward amount as of 22/06/21.
Important Information
If you have read all or any part of our email, website, or communication then you need to know that this is factual information and general advice only. This means it does not consider any person's particular financial objectives, financial situation, or financial needs. If you are an investor, you should consult a licensed adviser before acting on any information to fully understand the benefits and risk associated with the product. This is your call but that is what you should do.
You may be surprised to learn that RAIZ Invest Australia Limited (ABN 26 604 402 815) (Raiz), an authorised representative AFSL 434776 prepared this information.
We are not allowed, and have not prepared this information to offer financial product advice or a recommendation in relation to any investments or securities. If we did give you personal advice, which we did not, then the use of the Raiz App would be a lot more expensive than the current pricing – sorry but true. You therefore should not rely on this information to make investment decisions, because it was not about you for once, and unfortunately, we cannot advise you on who or what you can rely on – again sorry.
A Product Disclosure Statement (PDS) for Raiz Invest and/or Raiz Invest Super is available on the Raiz Invest website and App. A person must read and consider the PDS before deciding whether, or not, to acquire and/or continue to hold interests in the financial product. We know and ASIC research shows that you probably won't, but we want you to, and we encourage you to read the PDS so you know exactly what the product does, its risks and costs. If you don't read the PDS, it's a bit like flying blind. Probably not a good idea.
The risks and fees for investing are fully set out in the PDS and include the risks that would ordinarily apply to investing. You should note, as illustrated by the global financial crisis of 2008, that sometimes  not even professionals in the financial services sector understand the ordinary risks of investing – because by their nature many risks are unknown – but you still need to give it a go and try to understand the risks set out in the PDS.
Any returns shown or implied are not forecasts and are not reliable guides or predictors of future performance. Those of you who cannot afford financial advice may be considering ignoring this statement, but please don't, it is so true.
Under no circumstance is the information to be used by, or presented to, a person for the purposes of deciding about investing in Raiz Invest or Raiz Invest Super.
This information may be based on assumptions or market conditions which change without notice and have not been independently verified. Basically, this says nothing stays the same for long in financial markets (or even in life for that matter) and we are sorry. We try, but we can't promise that the information is accurate, or stays accurate.
Any opinions or information expressed are subject to change without notice; that's just the way we roll.
The bundll and superbundll products are provided by FlexiCards Australia Pty Ltd ABN 31 099 651 877 Australian credit licence number 247415. Bundll, snooze and superbundll are trademarks of Flexirent Capital Pty Ltd, a subsidiary of FlexiGroup Limited. Lots of names, which basically you aren't allowed to reproduce without their permission and we need to include here.
Mastercard is a registered trademark and the circles design is a trademark of Mastercard International Incorporated.
Home loans are subject to approval from the lending institution and Raiz Home Ownership makes no warranties as to the success of an application until all relevant information has been provided.
Raiz Home Ownership Pty Ltd (ABN 14 645 876 937), an Australian Credit Representative number 528594 under Australian Credit Licence number 387025. Raiz Home Ownership Pty Ltd is 100% owned by Raiz Invest Australia Limited (ABN 26 604 402 815).