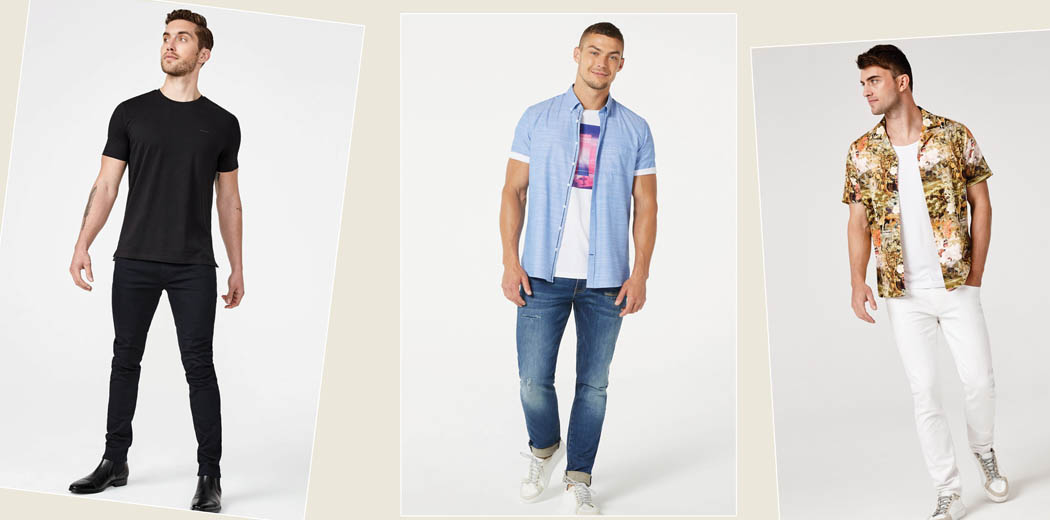 Boot cut? Straight cut? Body shape? Our partner POLITIX explains everything you need to know about men's jeans. Remember to shop with them through Raiz Rewards to earn 4.55% of your purchase invested back into your Raiz account.
It's hard to believe jeans have been a fashion staple since 1873, when Levi Strauss and Jacob Davis made the first ever pair of hard-wearing denim pants, with copper rivets on the pockets and flies. For nearly 150 years, jeans have been humanity's go-to casual trousers. They've morphed from working class staple to punk-rock statement to mainstream cultural icon. But choosing the right pair can still be a pain.
Do you go boot cut? Straight cut? Skinny or stretch slim? Distressed or classic? Blue, black, burgundy or something else altogether? Consider this guide your jeans encyclopedia. Everything you ever wanted to know—and some stuff you probably never wanted to know—about how to buy men's denim.
WHAT ARE JEANS?
Jeans are made from 'denim', which is technically a sort of cotton corduroy. Jeans and chinos are distant cousins, really, but denim is heavier and tougher, with a closer weave than regular cotton twill. The name comes from a fabric called Serge de Nîmes, originally made in Nîmes, France ('de Nîmes' eventually became 'denim'). It was around this time, in the 19th century, that weavers started adding indigo dye, which is where that classic 'denim blue' comes from. Of course, jeans have gone through dozens of tweaks, changes, styles and iterations over the last 150-odd years. Even Levi Strauss would have trouble navigating the average jeans catalogue.
DENIM FIT
Denim fit and cut are the fundamentals of men's jeans. It's why we have so many different styles and shapes available. Some of them are tied to specific eras (like '60s bell bottom jeans, which you should probably only wear on Halloween) while others have stood firm throughout the centuries (like the straight cut). What you're looking for here are jeans that feel comfortable and flatter your body shape. You can have the fanciest denim in the world, but if the fit isn't right, the whole thing's a disaster.
Straight leg jeans
These guys are like the OG jeans. Your dad probably has a few pairs in his wardrobe. They're cut straight (makes sense) with very little tapering from your hips down to your feet. A no nonsense, old-fashioned sort of jean. You can usually avoid straight cuts, unless you're tall and athletic—the big torso will offset the loose fabric. Even then, you're probably better off sticking with slim-stretch.
Skinny jeans
Men's skinny jeans (also known as 'skinny fit jeans') get a bad rap sometimes, but that's because people don't wear them properly. First, think about body shape. Skinny jeans look best on lithe, tall, skinny guys with smaller calves (hardcore cyclists, you might want to steer clear). Skinny jeans hug your figure all the way down, from hip to ankle, tapering into the skinniest possible silhouette.
Slim jeans
Men's slim jeans are like the Goldilocks of jeans, and most POLITIX styles are cut 'slim' for that reason. They're not too baggy and not too tight. They're tapered, but not restrictive. They're comfortable, but still stylish. And they tend to match well with almost anything—linen shirt, classic tee, winter coat, simple knit, anything. Aim for a snug fit around the waist with these: they'll stretch naturally over time.
Bootcut jeans
Bootcut jeans for men are pretty niche. 'Bootcut' basically refers to any jeans where the knee is cut more narrow than the leg. Some bootcut jeans aren't too extreme, and they can make a good weekend casual pair, but avoid the 'bellbottom' variety, which are straight out of Woodstock and should only be worn at Greenpeace marches. For practical purposes, stick to slim, skinny or straight cut.
Shop with POLITIX through Raiz Rewards in the Raiz app and they will invest 4.55% of your purchase back into your Raiz account. Reward amount as of 12/02/21.