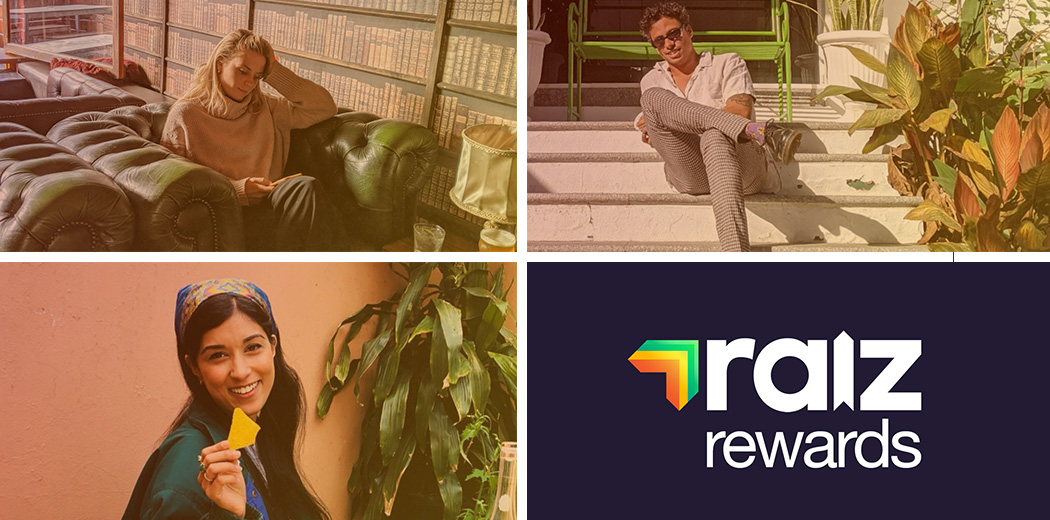 Raiz Rewards is our rewards program that sits within the Raiz app. Users can earn a percentage of their purchase invested back into their Raiz Invest or Raiz Super account, and the rewards are eligible on top of on-site sales. With over 250 brands to choose from there is something for everyone – from fashion to tech to travel. Before making a purchase, simply go to the Raiz Rewards section in the app and click the "Shop Online Here" button for the brand you'd like to shop with.
We spoke to three of our users to find out what they enjoyed most about Raiz Rewards. They are Bushra K., Holly W., and Maxime R.
Why do you like Raiz Rewards?
Bushra K.
"I love that I don't have to think about depositing money into a savings account, I'm a millennial; I want someone else to do it for me."
Holly W.
"I feel like I've made a discount on my purchase but really, it's gone to a savings account I don't touch. The nature of the Raiz Rewards program encourages you to constantly be money-savvy and set aside savings."
Maxime R.
"The amount of savings I get from the program are unbelievable."
What are your favourite brands to shop with?
Bushra K.
"Lee, Ksubi, Reebok, Atmos & Here."
Holly W.
"THE ICONIC."
Maxime R.
"I shop THE ICONIC and I really like the Raiz surveys which are quick and easy and add good coin to the side."
What advice would you give to Raiz users that do not currently use Raiz Rewards?
Bushra K.
"It's easy to use, it's a bit 'set and forget' which is great for when you don't consciously want to make decisions about money. Buy your essential items and watch your money grow!"
Holly W.
"Always check before you buy something online that there could be more discounts available in Raiz rewards."
Maxime R.
"Most of my friends already shop at these stores you may as well go through Raiz rewards so you can add to your fund!"
What do you currently do with your rewards? Leave it in your Raiz or Raiz Super account, withdraw it to spend elsewhere, use it to offset fees?
Bushra K.
"Leave it in my Raiz account!"
Holly W.
"Leave in my Raiz account."
Maxime R.
"I currently leave it in my Raiz Super account."
What would you like to see in Raiz Rewards in the future? Any features or specific stores?
Bushra K.
"Shopbop! I shop from there all the time."
Holly W.
"I don't think whether to check Raiz when I'm at checkout, so a Chrome extension would be cool!"
Maxime R.
"I would love to see some lighting stores and bunnings as this would benefit my business."
— — —
We continue to grow our partnerships with more brands and bring new rewards to our Raiz community.
Shop through Raiz Rewards in the Raiz app to earn a percentage of your purchase invested back into your Raiz account.