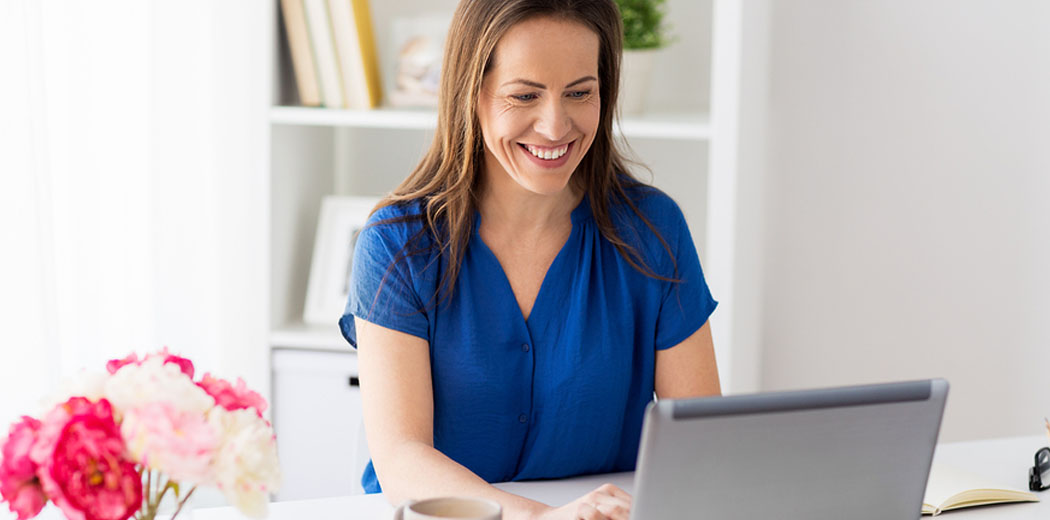 COVID-19 changed the world forever, and working from home has become the new normal for many businesses.
Moving into lockdown forced the corporate world to adapt and allow employees to work remotely – many of them permanently.
It's clear that working from home is here to stay as long as COVID is, so here are a few tips you can follow to make your working life at home more productive.
Your home internet connection
The most critical factor if you are working from home is your internet connection.
It's best to find out what plan you are on and consider if this is right for your working from home needs. You'll need to consider what type of activities you do online for your job, how many connected devices you have and how many people are online at the same time.
At MATE, all of our plans feature unlimited data and no contracts to give you plenty of internet options to choose from. You're also free to change plans whenever you want, with no plan change fees or extra charges.
Will only 2 – 4 people use the broadband plan simultaneously while you work? If so, then MATE's great mates nbn 25/5 plan might be all that you need.
On the other hand, if you have a larger family who will be using multiple screens and devices simultaneously while you work, a faster speed plan would suit you better. MATE's best mates nbn 50/20 plan provides a typical busy period download speed (7 pm-11 pm) of 42 Mbps.
If that's not enough, then MATE's soul mates nbn Home Fast and Home Fast+ plans offer 83 Mbps typical busy period download speeds – the Home Fast+ plan doubling the upload speed from 20Mbps to 40Mbps.
Finally, if you want to set your home up with an even faster connection, then MATE's elite mates Home Superfast plan offers speeds of up to 208 Mbps during the typical busy periods. There's an option for every household.
Don't reboot your modem, boot your telco! Check our MATE's award-winning nbn plans here.
Your Wi-Fi connection
Not to be confused with your internet connection! An internet connection and your home Wi-Fi connection are two different things. Your internet service provider supplies the actual connection, but your modem/router and your home equipment significantly impact the experience you will have when using the internet.
If your device drops off your Wi-Fi, you'll want to find out if other devices have the same issue. Make sure you check the settings on every device being affected, confirming everything is functioning correctly. Similarly, if you have a connection problem with a device hardwired to your router, such as a computer over Ethernet, consider trying a new cable.
If a device drops off the network, it might be due to distance – especially if it's near the edge of that Wi-Fi network. While you can move a portable device like a smartphone closer to the router, sometimes actually moving your router to a central location can work wonders with the help of professional cabling by a specialist. If you have a large home or multiple levels, you should consider enlarging your Wi-Fi footprint by installing a mesh router.
Your work from home environment
If you're going to be working from home for an extended period, you'll need to ensure your work from home setup is adequate for your needs.
There are a few critical things you can tick off:
A good office chair: Chairs can be expensive but can be a lifesaver if you sit all day. The most expensive chair isn't always the best one, so you'll need to work out what works for you – a chair that can adjust to the right height for your desk and body is a must.
A good desk: Stand-up desks were already becoming a workplace standard, but with remote work, there is now greater demand than ever for standing desks in the home. If you can't justify the outlay, there are more affordable options as well as thousands of 'IKEA hacks' from genius wannabe designers. As an alternative, start small and stand up when you take a phone call or set a timer to stand up every hour for 10 minutes and complete a task you don't need to be seated to complete.
Adequate lighting: Believe it or not, good lighting in your home office can make all the difference to your energy, mood and even your Zoom, Slack or Teams calls. Simply opening the blinds or replacing the bulb in your lamp with a daylight colour balanced bulb can give you a natural boost of energy, and the increased light in the room will also improve your webcam quality.
Your mobile plan
Now that the desk phone is gone, it's time to make sure you have the right mobile plan for your needs – if your home internet connection goes down, then hot-spotting from your mobile will be your trusty backup!
MATE's great value postpaid mobile plans include unlimited talk and text and large data inclusions. You can also keep your unused monthly data with data banking available on all plans. MATE uses part of the Telstra Mobile Network that covers more than 98.8% of the population with 3G and 97% of the population with 4G!
Better still, you can transfer your existing mobile number, and they even throw in unlimited calls and SMS to 15 selected countries and a TIDAL music subscription on most plans!
Mobile plans with award-winning Aussie Service from $20 per month. Check our MATE's great value postpaid mobile plans here.
Shop with MATEthrough Raiz Rewards in the Raiz app to earn $17.50 (NBN) or $10.50 (Mobile) invested back into your Raiz Account when you sign up to a new plan. Reward amounts valid as of 26/07/21.
Important Information
If you have read all or any part of our email, website, or communication then you need to know that this is factual information and general advice only. This means it does not consider any person's particular financial objectives, financial situation, or financial needs. If you are an investor, you should consult a licensed adviser before acting on any information to fully understand the benefits and risk associated with the product. This is your call but that is what you should do.
You may be surprised to learn that RAIZ Invest Australia Limited (ABN 26 604 402 815) (Raiz), an authorised representative AFSL 434776 prepared this information.
We are not allowed, and have not prepared this information to offer financial product advice or a recommendation in relation to any investments or securities. If we did give you personal advice, which we did not, then the use of the Raiz App would be a lot more expensive than the current pricing – sorry but true. You therefore should not rely on this information to make investment decisions, because it was not about you for once, and unfortunately, we cannot advise you on who or what you can rely on – again sorry.
A Product Disclosure Statement (PDS) for Raiz Invest and/or Raiz Invest Super is available on the Raiz Invest website and App. A person must read and consider the PDS before deciding whether, or not, to acquire and/or continue to hold interests in the financial product. We know and ASIC research shows that you probably won't, but we want you to, and we encourage you to read the PDS so you know exactly what the product does, its risks and costs. If you don't read the PDS, it's a bit like flying blind. Probably not a good idea.
The risks and fees for investing are fully set out in the PDS and include the risks that would ordinarily apply to investing. You should note, as illustrated by the global financial crisis of 2008, that sometimes  not even professionals in the financial services sector understand the ordinary risks of investing – because by their nature many risks are unknown – but you still need to give it a go and try to understand the risks set out in the PDS.
Any returns shown or implied are not forecasts and are not reliable guides or predictors of future performance. Those of you who cannot afford financial advice may be considering ignoring this statement, but please don't, it is so true.
Under no circumstance is the information to be used by, or presented to, a person for the purposes of deciding about investing in Raiz Invest or Raiz Invest Super.
This information may be based on assumptions or market conditions which change without notice and have not been independently verified. Basically, this says nothing stays the same for long in financial markets (or even in life for that matter) and we are sorry. We try, but we can't promise that the information is accurate, or stays accurate.
Any opinions or information expressed are subject to change without notice; that's just the way we roll.
The bundll and superbundll products are provided by FlexiCards Australia Pty Ltd ABN 31 099 651 877 Australian credit licence number 247415. Bundll, snooze and superbundll are trademarks of Flexirent Capital Pty Ltd, a subsidiary of FlexiGroup Limited. Lots of names, which basically you aren't allowed to reproduce without their permission and we need to include here.
Mastercard is a registered trademark and the circles design is a trademark of Mastercard International Incorporated.
Home loans are subject to approval from the lending institution and Raiz Home Ownership makes no warranties as to the success of an application until all relevant information has been provided.
Raiz Home Ownership Pty Ltd (ABN 14 645 876 937), an Australian Credit Representative number 528594 under Australian Credit Licence number 387025. Raiz Home Ownership Pty Ltd is 100% owned by Raiz Invest Australia Limited (ABN 26 604 402 815).