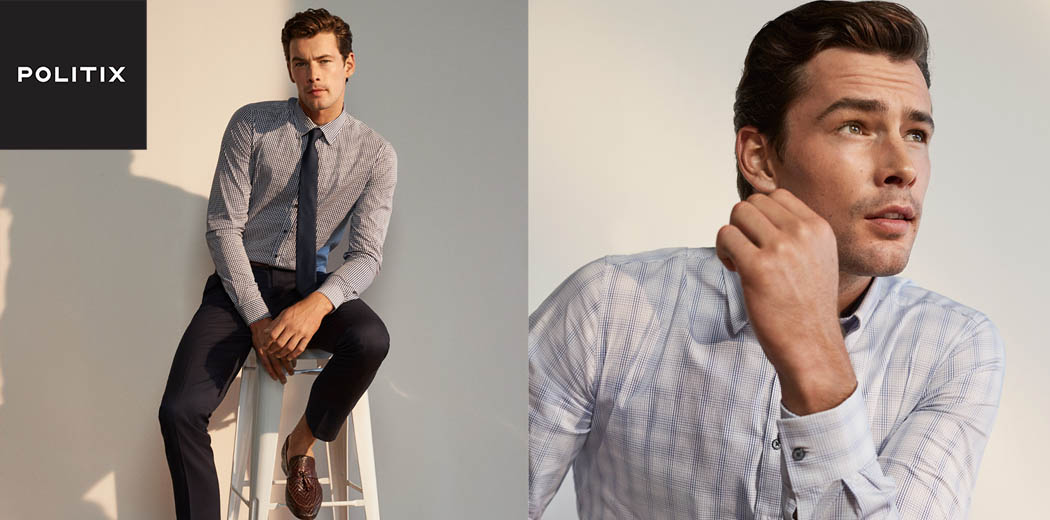 Not all shirts are created equal. This season, we're rolling up our sleeves and rocking checks, textured prints and statement colours.
We have you covered for everything you need to know about shirt styles, from summer shirts through to autumn men's shirts options. POLITIX has been around since the dawn of parachute pants and double denim. When mullets were long and Dad Jeans were out in full force.
A lot has changed since the early 1980s—we moved on from Power Suits and shoulder pads, for one thing—but good shirting will never go out of style. Guys will always need to know how to pick the right shirt for the right occasion.
Do you roll with patterns and textures? Classic white or statement colours? Is this shirt for dates, weddings or job interviews? (Pro tip: 'All three' is not the correct answer.)
This autumn we're taking a deep dive into the history of POLITIX shirting and pulling out some of our classic styles. This is our Archive Range: tried and tested designs that we've dragged into the present day. No mullet required.
The Humble Check Shirt
They've been around for what feels like centuries, and let's face it, there are plenty out there. But finding the right check shirt shouldn't be hard.
For the POLITIX Archive, we've pulled out classic patterns that won't date over time. These checks add interest to your outfit. They're made from comfortable fabric that sits perfectly tucked in, with or without a tie (thanks to handy hidden buttons in the collar).
Take the Chelsea LS shirt. We've updated the classic gingham check by blending it with cotton stretch fabric and a slim silhouette.
This means you've got the comfort of added stretch with the tailored look of a slim-cut. The collar is extra soft, too, so it won't dig into the skin when you're wearing a tie.
The Chelsea is an all-time staple that you should always have on rotation. It's the Negroni of business shirts.
We've also relaunched our windowpane Kings LS Shirt. Super-fine lines make this windowpane slightly softer, and it's versatile enough to wear with any suit or blazer. You can rock this guy with a tie, for a casual business look, or layer it with knitwear and a utility jacket, for more of an off-duty vibe.
The Politix Polka Dot
Don't be intimidated by polka dots. They're not just for kids' TV presenters. Sometimes you need to look sharp from a distance, but fun up-close. And nothing screams personality like a subtle polka pattern.
We like to keep this style simple—less is definitely more when it comes to polka dot shirts. So we've re-introduced our Archive Polka Dot Domaso LS.
With a soft, textured fabric and two available colours, it's got plenty of visual interest. But it's clean and simple enough to wear with almost anything. From Friday date nights to Monday meetings, all you have to do is set the mood with the rest of your outfit.
For a relaxed day-to-day look, match with coloured chinos and simple white sneakers. The polka dots really knock the starch out of the shirt, but the cut is still sharp. For a more formal take, pair this guy with a textured blazer and brown loafers. One last tip: never match polka dots with suspenders. People will assume you're a street performer.
When white just won't cut it
Every guy loves a bright white shirt. They're crisp, classic and they match with everything. But keeping those collars clean is a pain, and it's worth branching out from time to time, especially if you're caught in a monochrome loop.
The Eddison LS Shirt is one of our favourite pieces in the POLITIX Archive. With high-shine, cotton-stretch fabric, it adds that touch of sophistication and personality, without sacrificing comfort.
First rule of shirting: you need to be able to move your arms.
The Eddison is available in white, navy and black, but this season is all about tonal dressing. We're opening the colour box and launching fresh shades that will match with blazers, chinos and tailored jackets. If in doubt, try khaki, smoke blue or dusty pink. Just make sure to colour-match your tie: dark with dark, blues with blues.
The Extra Texture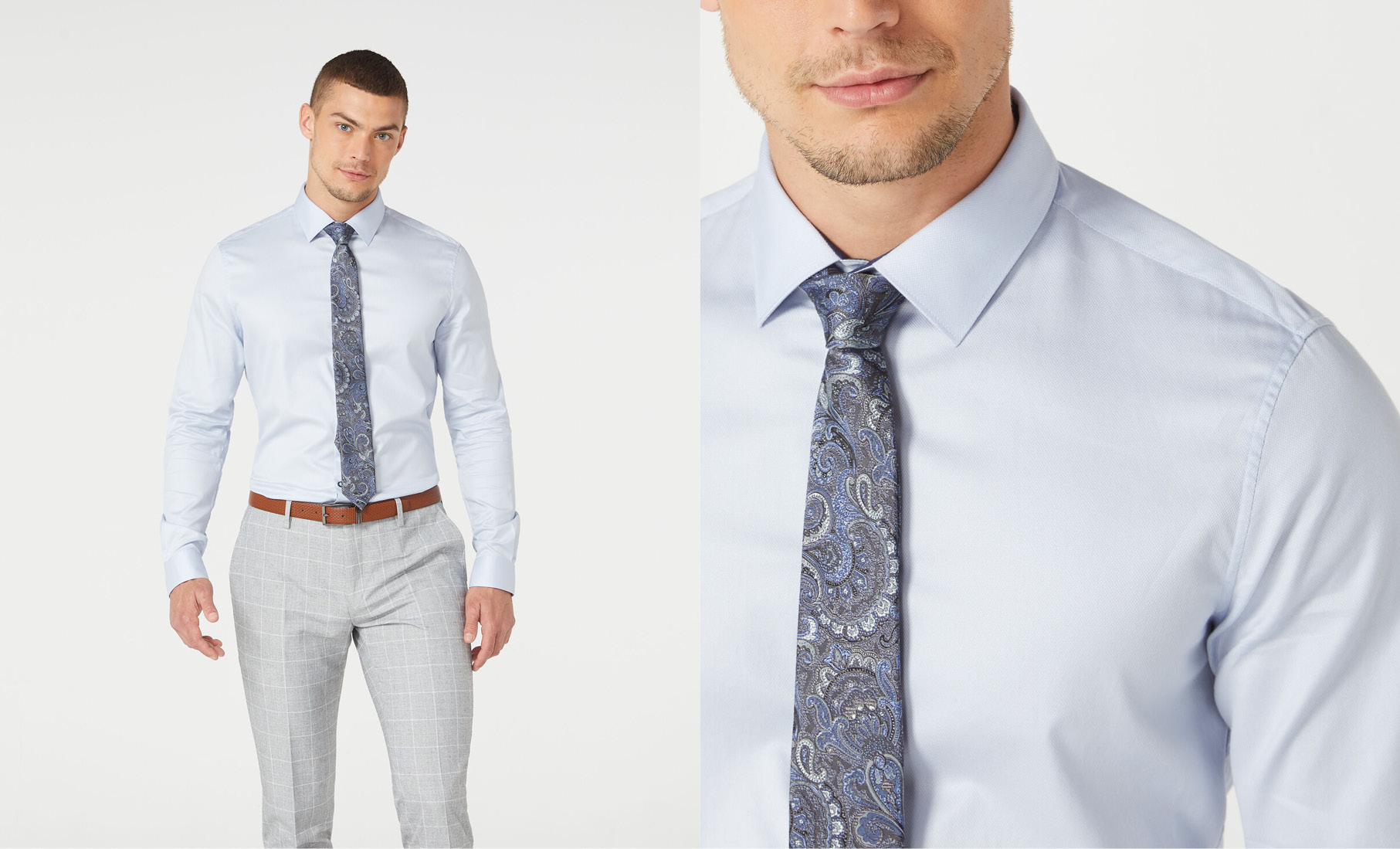 Textured shirts have been around for a while. We're suckers for a subtle houndstooth or geo-texture shirt. It's an easy way to add visual interest without cranking the dial too far.
Our Liverpool LS Shirt has cemented itself as the chameleon of the POLITIX Archive. Honestly, you can wear this shirt with anything. One minute you're off to a wedding, the next you're in front of the boss, trying to remember your Power Point notes.
The Liverpool is the exception to the rule that each shirt fulfills a specific function: think of this guy as a generalist. It's designed in-house by POLITIX designers, and has a unique, super-soft texture, with plenty of stretch. We've also added little details, like contrast fabrics on the cuff and satin tape on the centre placket.
You can get the Liverpool in white, navy and a bunch of pastel shades, so it's easy to colour match. Every guy should have at least one of these hanging in the wardrobe.
The Humble Diamond Geo
When was the last time you got a compliment on your shirt? If you can't remember, it's been too long.
For guys who love being the centre of attention, we've got the Nossa LS Shirt. It features a vintage diamond geo texture, and comes in crisp white, suave navy or casual khaki.
This particular geo has always been popular, so we had to bring it back for the Archive range. Think of it as the antidote to boring, generic office shirts.
You can wear the Nossa with a tie, but we actually prefer it open-collar. Just throw it under a stretch-knit blazer and you're good to go.
Shop with POLITIX through Raiz Rewards in the Raiz app to earn 4.55% of your purchase price invested back into your Raiz account. (Reward amount valid as of 12/03/21)
This article was originally published on POLITIX by Brad Mclennan.
Important Information
If you have read all or any part of our email, website, or communication then you need to know that this is factual information and general advice only. This means it does not consider any person's particular financial objectives, financial situation, or financial needs. If you are an investor, you should consult a licensed adviser before acting on any information to fully understand the benefits and risk associated with the product. This is your call but that is what you should do.
You may be surprised to learn that RAIZ Invest Australia Limited (ABN 26 604 402 815) (Raiz), an authorised representative AFSL 434776 prepared this information.
We are not allowed, and have not prepared this information to offer financial product advice or a recommendation in relation to any investments or securities. If we did give you personal advice, which we did not, then the use of the Raiz App would be a lot more expensive than the current pricing – sorry but true. You therefore should not rely on this information to make investment decisions, because it was not about you for once, and unfortunately, we cannot advise you on who or what you can rely on – again sorry.
A Product Disclosure Statement (PDS) for Raiz Invest and/or Raiz Invest Super is available on the Raiz Invest website and App. A person must read and consider the PDS before deciding whether, or not, to acquire and/or continue to hold interests in the financial product. We know and ASIC research shows that you probably won't, but we want you to, and we encourage you to read the PDS so you know exactly what the product does, its risks and costs. If you don't read the PDS, it's a bit like flying blind. Probably not a good idea.
The risks and fees for investing are fully set out in the PDS and include the risks that would ordinarily apply to investing. You should note, as illustrated by the global financial crisis of 2008, that sometimes  not even professionals in the financial services sector understand the ordinary risks of investing – because by their nature many risks are unknown – but you still need to give it a go and try to understand the risks set out in the PDS.
Any returns shown or implied are not forecasts and are not reliable guides or predictors of future performance. Those of you who cannot afford financial advice may be considering ignoring this statement, but please don't, it is so true.
Under no circumstance is the information to be used by, or presented to, a person for the purposes of deciding about investing in Raiz Invest or Raiz Invest Super.
This information may be based on assumptions or market conditions which change without notice and have not been independently verified. Basically, this says nothing stays the same for long in financial markets (or even in life for that matter) and we are sorry. We try, but we can't promise that the information is accurate, or stays accurate.
Any opinions or information expressed are subject to change without notice; that's just the way we roll.
The bundll and superbundll products are provided by FlexiCards Australia Pty Ltd ABN 31 099 651 877 Australian credit licence number 247415. Bundll, snooze and superbundll are trademarks of Flexirent Capital Pty Ltd, a subsidiary of FlexiGroup Limited. Lots of names, which basically you aren't allowed to reproduce without their permission and we need to include here.
Mastercard is a registered trademark and the circles design is a trademark of Mastercard International Incorporated.
Home loans are subject to approval from the lending institution and Raiz Home Ownership makes no warranties as to the success of an application until all relevant information has been provided.
Raiz Home Ownership Pty Ltd (ABN 14 645 876 937), an Australian Credit Representative number 528594 under Australian Credit Licence number 387025. Raiz Home Ownership Pty Ltd is 100% owned by Raiz Invest Australia Limited (ABN 26 604 402 815).