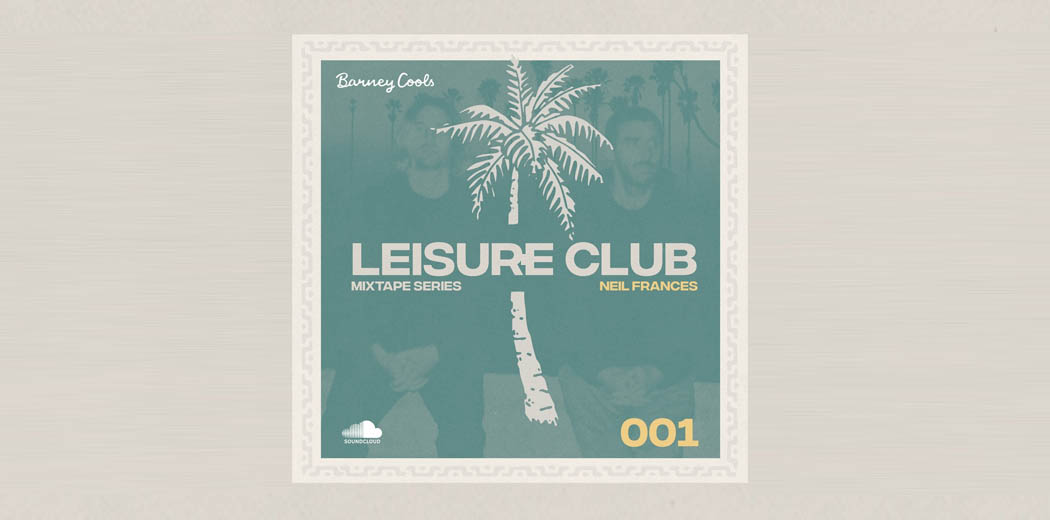 We recently launched Barney Cools,  an Australian lifestyle clothing company boasting a rebellious spirit and an open mind. They're globetrotting, salt water lovin', laid-back dudes on a mission to share good times with an international audience. What began in a shack in Sydney, can now be found everywhere from New Zealand to New York and beyond.
You can check out their range of tees, hoods & knits, pants, accessories and more.
In case you needed a reason to love them more, they also launch mixtapes with some pretty cool DJs.
They're latest one is with Neil Frances and here's what they had to say when they sat down with the duo, Jordan and Marc:
1) THANKS FOR JUMPING ON FOR A MIX – WE WERE BLOWN AWAY TO GET THE LADS ON BOARD. WE'VE BEEN FOLLOWING HERE IN THE OFFICE SINCE THE STARDUST COVER WHICH HAS PROBABLY MADE IT IN EVERY BC DJS SET TO DATE… WHAT INSPIRED THE VERY SPICY TRACK SELECTION ON THIS MIXTAPE?
J- Thanks for having us. we've done a few mixes for a radio station here in LA called Dublab. They've generally included a wider array of genres and tempo which makes them tougher to put together. We wanted this one to be a little more dance floor focused. All spice no chill.
M – Spicy indeed! I happened to be listening to quite a bit of Robyn over the winter break so it felt natural throwing in some dance floor anthems..
2) FALLING FOR YOU AND ALL THE NEW RELEASES ARE SOUNDING DOPE. WE'RE AMPED FOR THE EP RELEASE NEXT MONTH (DROPPING MARCH 12TH). HOW DID THIS ONE ALL COME TOGETHER AND ANY INSIGHT ON THE CREATIVE PROCESS?
J – Well we wanted to include both of our covers on the EP so they get an official vinyl release. Creatively the EP came together pretty quickly. Marc and I are pretty fluid when it comes to making music these days, and we thought it was time to build out a fuller release.
M – It's funny how we've been reverse engineering this EP for quite some time. It's sort of an "oh shit, look at that, we have an EP" moment for us.
3) THE LAST YEAR HASN'T BEEN PARTICULARLY FRIENDLY TO THE LIVE MUSIC INDUSTRY AND USA IN PARTICULAR… HOW HAVE YOU GUYS COPED THROUGH IT ALL AND ANY SILVER LININGS WORTH MENTIONING?
J – Yeah it's been such a strange time. the toughest part for me was that it constantly kept getting worse with the peak hitting in December / January which was the first time I was genuinely wary and concerned of seeing more than the 3-4 people i'm closest with. Silver lining has definitely been being able to focus on a lot of new music last year.
M – We've been pressed to try to create and perform differently given the circumstances. During the height of cases in LA, we didn't want to bring the full band together so Jordan and I came up with a 2-man live set we could perform for a live stream opportunity. Using sequencers and drum machines we've figured out a way to play our tracks with our analog gear and no computers (a little rule we've made for ourselves). It's actually really fun and has been so creatively productive.
4) GO-TO TRACK RIGHT NOW? 
J – Right now I'd say Madlib – Two for 2 (for Dilla) such a masterful display of the art of sampling.
M – I'm really loving Hether – "Morning Bells" these days.
5) … AND ONE THAT GETS NEIL FRANCES IN THE MOOD FOR ANYTHING?
J – Ok this track is top 5 weapons and gets me in the mood for action… AB/DC – This Feelin
M – A Number of Names – Sharevari … just a classic that I'm always happy to hear pop on.
6) FINALLY… WHO WOULD BE BILLED FOR THE DREAM NEIL FRANCES POST-PANDEMIC PARTY AND WHERE WOULD IT ALL GO DOWN?'
J – 2manydjs and james murphy in that despacio soundsystem they created together a few years back
M – Yep, can't imagine anything much dreamier than that.
TRACKLIST
brijean – moody
moodymann, amp fiddler – got me coming back rite now
baby oliver – primetime (uptown express)
patti jo – make me believe in you
sault – free
surface – falling in love
cathy dennis – touch me (all night long) – 7″ mix
soul reductions – got to be loved – extended mix
neil frances – falling for you
demon – you are my high
bobby thurston – you got what it takes
goody goody – it looks like love
bel amour – bel amour (classic vocal mix)
robyn – ever again
shigeo sekito – the word ii
Shop with Barney Cools through Raiz Rewards in the Raiz app and they will invest 7.7% (normally 5.6%) of your purchase back into your Raiz account. Increased reward valid 16/04/21 – 21/04/21. This article was originally published on Barney Cools.
Important Information
If you have read all or any part of our email, website, or communication then you need to know that this is factual information and general advice only. This means it does not consider any person's particular financial objectives, financial situation, or financial needs. If you are an investor, you should consult a licensed adviser before acting on any information to fully understand the benefits and risk associated with the product. This is your call but that is what you should do.
You may be surprised to learn that RAIZ Invest Australia Limited (ABN 26 604 402 815) (Raiz), an authorised representative AFSL 434776 prepared this information.
We are not allowed, and have not prepared this information to offer financial product advice or a recommendation in relation to any investments or securities. If we did give you personal advice, which we did not, then the use of the Raiz App would be a lot more expensive than the current pricing – sorry but true. You therefore should not rely on this information to make investment decisions, because it was not about you for once, and unfortunately, we cannot advise you on who or what you can rely on – again sorry.
A Product Disclosure Statement (PDS) for Raiz Invest and/or Raiz Invest Super is available on the Raiz Invest website and App. A person must read and consider the PDS before deciding whether, or not, to acquire and/or continue to hold interests in the financial product. We know and ASIC research shows that you probably won't, but we want you to, and we encourage you to read the PDS so you know exactly what the product does, its risks and costs. If you don't read the PDS, it's a bit like flying blind. Probably not a good idea.
The risks and fees for investing are fully set out in the PDS and include the risks that would ordinarily apply to investing. You should note, as illustrated by the global financial crisis of 2008, that sometimes  not even professionals in the financial services sector understand the ordinary risks of investing – because by their nature many risks are unknown – but you still need to give it a go and try to understand the risks set out in the PDS.
Any returns shown or implied are not forecasts and are not reliable guides or predictors of future performance. Those of you who cannot afford financial advice may be considering ignoring this statement, but please don't, it is so true.
Under no circumstance is the information to be used by, or presented to, a person for the purposes of deciding about investing in Raiz Invest or Raiz Invest Super.
This information may be based on assumptions or market conditions which change without notice and have not been independently verified. Basically, this says nothing stays the same for long in financial markets (or even in life for that matter) and we are sorry. We try, but we can't promise that the information is accurate, or stays accurate.
Any opinions or information expressed are subject to change without notice; that's just the way we roll.
The bundll and superbundll products are provided by FlexiCards Australia Pty Ltd ABN 31 099 651 877 Australian credit licence number 247415. Bundll, snooze and superbundll are trademarks of Flexirent Capital Pty Ltd, a subsidiary of FlexiGroup Limited. Lots of names, which basically you aren't allowed to reproduce without their permission and we need to include here.
Mastercard is a registered trademark and the circles design is a trademark of Mastercard International Incorporated.
Home loans are subject to approval from the lending institution and Raiz Home Ownership makes no warranties as to the success of an application until all relevant information has been provided.
Raiz Home Ownership Pty Ltd (ABN 14 645 876 937), an Australian Credit Representative number 528594 under Australian Credit Licence number 387025. Raiz Home Ownership Pty Ltd is 100% owned by Raiz Invest Australia Limited (ABN 26 604 402 815).