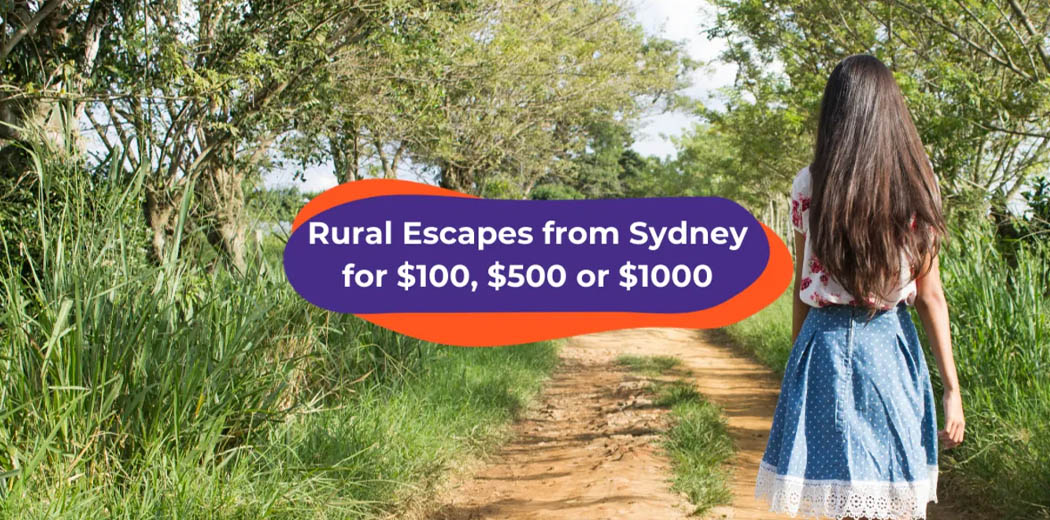 The travel ban is lifted in NSW and we can explore once more. Here are our top getaways to meet your budget – whether it's a day trip for $100, a one-nighter for $500 or you're splurging for the weekend at $1000!
Budget = ~$100
How far? 1 hour 30 mins from Sydney by car
How to get there? take the M5/M7 and then M31
What to do?
Pies, wine, pies, wine. Do you need anything else? We recommend starting your rural escape with a pie run: 
Gumnut Pattiserie
 or 
Robertson Pie Shop
 on your way in (depending which route you're taking), then 
Heatherbrae's Pies
 on your way to the wineries. This section of the highlands holds the more boutiquey vineyards, with 
Cutaway Hill
 offering real rural vibes and 
St Maur
 a rich history of Italian heritage.
Once you're filled up on red wine and beef stew, you can swoop around to check out Fitzroy Falls – a grand finale free view that should keep you within your budget (unless you went crazy on the wines!).
Budget = ~$100
How far? 1 hour by car from Sydney / 2 hours by train to Katoomba
How to get there? take the M4 via car or train from Central Station
What to do?
The classic day trip every Sydneysider needs to do at least once in their lifetime. The Blue Mountains is very accessible and has it all – cafes, bushwalks, winter feels. You've probably seen The Three Sisters already, but have you braved Australia's first ever cablecar or almost vertical railway?! The 
Scenic World Discovery Pass
 lets you take unlimited turns on the cableway, railway and walkways. And once you've got your fill of heights and steepness, there's an ample amount of secret bushwalks with plenty of hidden waterfalls and valleys to keep you trekking.
Eating pies, taking the train, free bush walks and that 
pass from $43
 should keep you well within your budget.
Budget = ~$500
How far? 50 minutes from Sydney by car
How to get there? take the M5 and turn right onto Camden Valley Way
What to do?
Camden Valley (less than an hour out of Sydney) is super easy to get to and despite just popping off a motorway, you feel like you're in the country immediately. If you want views of sweeping farmland and distant city, then you should definitely hit up the 
Camden Valley Sunrise Hot Air Ballooning
. It's an early morning start, but we recommend staying at the pick up point 
Camden Valley Inn
 the night before to be fresh and ready. You'll get dutch pancakes too for breakfast!
O.K. So you may end up slightly above $500 with this one – when you throw in food and petrol and that gorgeous sunrise view from a Hot Air Balloon. But just bring your significant other or your best mate along to cut down those shared costs.
Budget = ~$1000
How far? 3 hours 30 minutes by car
How to get there? via Great Western Hwy/A32
What to do?
There's mudge to do in Mudgee. The first is check in to the gorgeous 
Strikes Mudgee
 – stunning eco-friendly cottages that overlook amazing yellow hills of farmland. Keeping on that positive eco vibe, be sure to venture to 
Lowe Wines
. Just 10 minutes around the corner, this vineyard has a great selection of organic wine to pick-up for a night in of cheese and views.
Then wake up fresh to do a day trip – hire some kayaks at the Dunns Swamp ground in the Wollemi National Park from 
Southern Cross Kayaking
 (about 1 hour from where you're staying) and row to quiet and tranquillity. Then grab a bite to eat on the way back at 
Pipeclay Pipehouse
; great modern dishes from home grown produce served with local wines.
Budget = ~$1000
How far? 2 hours from Sydney by car
How to get there? take the M1
What to do?
Sydneysiders just keep coming back to the 
Hunter
! Next time you head, stay at the 
Nu Leaf Retreat
 for a bit of R&R on your rural escape – you'll be pampered with yoga, massages and indoor and outdoor pools within easy distance of wineries! To hit up the wineries, try the 
'Cheeses of the World' Wine-Matching Experience
 at Harkham Wines to ease into your vineyard journey. From only $30, you'll get pick-up and drop-off at your hotel (no designated driver) and 9 local wines and cheese to try! Then hop on either an 
Audrey Wilkinson Behind The Scenes Tour
 to learn all about the wine making process or if you're more of a beer person, try the 
Hunter Valley Winery and Brewery Day Tour
 which will also introduce you to the Newcastle craft beer scene! No one needs to drive!
---
This article was originally published on Klook by Diana Vidovic.
Shop with Klook for the first time through Raiz Rewards in the Raiz app and they will invest 3.5% for Tours, Sightseeing, Activities, Food & Dining, Transport & Travel Essentials, Attractions & Shows or 1.4% for Special Activities.T&Cs Apply. (Reward amount valid as of 28/7/20.