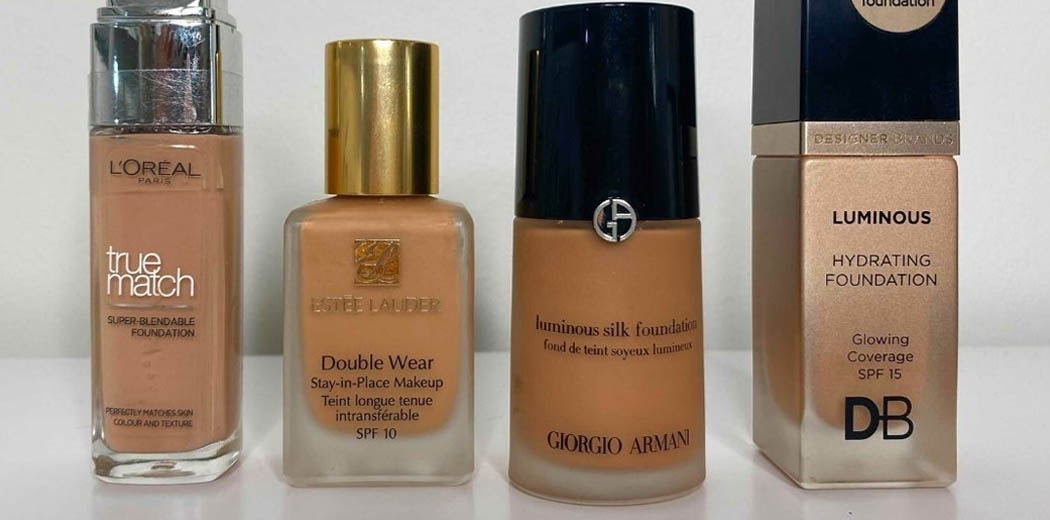 Our Raiz Rewards partner Adore Beauty, talk through four of their best-selling foundations with different price points.
Choosing a foundation is like dating. Or finding a good chocolate chip cookie recipe. You've got to go through a lot of duds to find 'the one'. It is what it is.
Sadly, it's not great for your bank account – buying and trailing lots of foundations, that is – which is why as a makeup artist who's tried hundreds of products, I thought I'd take you through the pros and cons of four of our most popular foundations.
From coverage and finish to the price tag and shade ranges, keep scrolling for rapid fire foundation facts to help you choose which product to add to your next Adore order.
1. Designer Brands Hydrating Luminous Foundation, $19.99.
Fast facts:
Medium coverage – I like to buff it into the skin using a firm kabuki foundation brush.
Dewy, luminous finish that's great for dry skin but oily skin types may not love this.
Contains a hyaluronic acid concentrate to keep the skin hydrated throughout the day.
Downfall is the shade range, only 12 shades available.
Why it's so good:
I didn't think heaps of this product before I tried it but now, Designer Brands Hydrating Luminous Foundation is one of my personal favourites. As soon as it touched my skin, I was like, "where has this been all my life and why aren't more people talking about it?"
2. L'Oreal Paris True Match Liquid Foundation, $29.95.
Fast facts:
A super affordable foundation that could suit almost anyone.
Gives a true buildable medium coverage with a satin finish that's neither completely matte nor completely dewy.
We currently stock 33 shades with warm, neutral and cool undertones on Adore Beauty.
Why it's so good:
L'Oreal Paris True Match Liquid Foundation is kind of like the burrata cheese of foundations. You can't eat it (sorry!), but you can pair it with different things to get the result you're after. Want a matte finish? Prep the skin with a mattifying primer and set with a translucent powder. Prefer a dewier finish? Use a hydrating and/or luminous primer and only set with powder where you get oily (usually chin, nose and forehead).
3. Estée Lauder Double Wear Stay In Place Makeup, $60.
Fast facts:
Medium to full coverage that will not budge – it's one of Adore Brand & Content Manager Hannah's favourites.
Offers a completely matte, velvety finish that'll last all day.
The formula is waterproof, sweat-proof, oil-proof, life-proof.
We currently stock a whopping 60 shades with warm, neutral and cool undertones on Adore Beauty.
Why it's so good:
You've heard it before, but honestly, Estée Lauder Double Wear Stay In Place Makeup is cult for a reason. If you have oily skin and love a full coverage foundation, this will be your holy grail. I use this a lot on my makeup artist clients who have oily skin and/or want full coverage, long-lasting makeup. Trust me, it goes the distance.
4. Giorgio Armani Luminous Silk Foundation, $100.
Fast facts:
Formulated by iconic makeup artist Pat McGrath, is a favourite among celebs.
Delivers medium coverage that can be built up to a full coverage foundation, without looking cakey.
Feels weightless on the skin and gives a lovely lustre (looks like my skin, but better).
Again, oily skin types may not love the dewy, hydrating finish.
We currently stock 39 shades with warm, neutral and cool undertones on Adore Beauty.
Why it's so good:
Yes, Giorgio Armani Luminous Silk Foundation is $100 but it's worth every penny. When people ask what the finish is like, I tell them to picture a smooth, glistening piece of silk. Is it the foundation you'd wear to go grocery shopping? Probably not (if you've got the financial means, you do you though!). But if you're looking for a quality foundation, it's a great investment.
Moral of the story: Regardless of price, there's a foundation option out there to suit your skin type and budget. Praise be!
To see what these foundations look like in real life, watch my full budget vs bougie foundation comparison YouTube video below.
Shop with Adore Beauty through Raiz Rewards in the Raiz app to earn 4.2% (new customers) and 2.8% (existing customers) of your purchase price invested back into your Raiz account. (Reward amount valid as of 17/03/21)
This article was originally published on Adore Beauty by Megan Miloshis.
Important Information
If you have read all or any part of our email, website, or communication then you need to know that this is factual information and general advice only. This means it does not consider any person's particular financial objectives, financial situation, or financial needs. If you are an investor, you should consult a licensed adviser before acting on any information to fully understand the benefits and risk associated with the product. This is your call but that is what you should do.
You may be surprised to learn that RAIZ Invest Australia Limited (ABN 26 604 402 815) (Raiz), an authorised representative AFSL 434776 prepared this information.
We are not allowed, and have not prepared this information to offer financial product advice or a recommendation in relation to any investments or securities. If we did give you personal advice, which we did not, then the use of the Raiz App would be a lot more expensive than the current pricing – sorry but true. You therefore should not rely on this information to make investment decisions, because it was not about you for once, and unfortunately, we cannot advise you on who or what you can rely on – again sorry.
A Product Disclosure Statement (PDS) for Raiz Invest and/or Raiz Invest Super is available on the Raiz Invest website and App. A person must read and consider the PDS before deciding whether, or not, to acquire and/or continue to hold interests in the financial product. We know and ASIC research shows that you probably won't, but we want you to, and we encourage you to read the PDS so you know exactly what the product does, its risks and costs. If you don't read the PDS, it's a bit like flying blind. Probably not a good idea.
The risks and fees for investing are fully set out in the PDS and include the risks that would ordinarily apply to investing. You should note, as illustrated by the global financial crisis of 2008, that sometimes  not even professionals in the financial services sector understand the ordinary risks of investing – because by their nature many risks are unknown – but you still need to give it a go and try to understand the risks set out in the PDS.
Any returns shown or implied are not forecasts and are not reliable guides or predictors of future performance. Those of you who cannot afford financial advice may be considering ignoring this statement, but please don't, it is so true.
Under no circumstance is the information to be used by, or presented to, a person for the purposes of deciding about investing in Raiz Invest or Raiz Invest Super.
This information may be based on assumptions or market conditions which change without notice and have not been independently verified. Basically, this says nothing stays the same for long in financial markets (or even in life for that matter) and we are sorry. We try, but we can't promise that the information is accurate, or stays accurate.
Any opinions or information expressed are subject to change without notice; that's just the way we roll.
The bundll and superbundll products are provided by FlexiCards Australia Pty Ltd ABN 31 099 651 877 Australian credit licence number 247415. Bundll, snooze and superbundll are trademarks of Flexirent Capital Pty Ltd, a subsidiary of FlexiGroup Limited. Lots of names, which basically you aren't allowed to reproduce without their permission and we need to include here.
Mastercard is a registered trademark and the circles design is a trademark of Mastercard International Incorporated.
Home loans are subject to approval from the lending institution and Raiz Home Ownership makes no warranties as to the success of an application until all relevant information has been provided.
Raiz Home Ownership Pty Ltd (ABN 14 645 876 937), an Australian Credit Representative number 528594 under Australian Credit Licence number 387025. Raiz Home Ownership Pty Ltd is 100% owned by Raiz Invest Australia Limited (ABN 26 604 402 815).